CPAC Electrolytic ARU Series
PRODUCT CODE: ARU-1200 , ARU-2100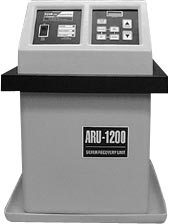 ELECTROLYTIC SILVER RECOVERY UNITS FOR X-RAY, GRAPHIC ARTS, MICROFILM, NDT, AND BLACK AND WHITE PROCESSING
ARU-1200 and ARU-2100 models feature digital microprocessor controls, digital display, and keypad for ease of calibration and information storage. These models automatically control and optimize plating current as the silver concentration varies in the fixer solution.
FEATURES AND BENEFITS:
Digital microprocessor control calculates amp-hours (plating activity) from the last cathode de-silvering process.
Units automatically revert to stand-by mode preventing sulfiding during slow production periods.
Flashing error messages appear if the unit is not plating silver.
All units feature liquid tight sealed drive shaft bearing assemblies.
Multimedia: